A new study published in the journal Nature Communications, suggests that the Gulf Stream system, known as the Atlantic Meridional Overturning Circulation (AMOC), could collapse as soon as 2025.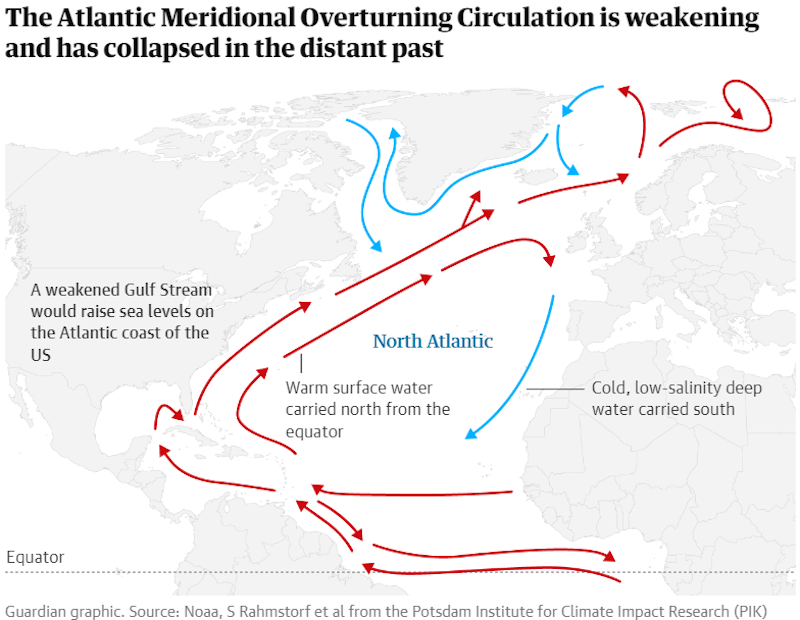 AMOC plays a crucial role in carrying warm ocean water northwards, driving the Atlantic's currents. However, increasing freshwater influx from melting ice caps, especially from Greenland, is disrupting these currents.
The consequences of an AMOC collapse would be catastrophic, affecting rainfall patterns in India, South America, and West Africa, increasing storms and lowering temperatures in Europe, raising sea levels on the eastern coast of North America, and endangering the Amazon rainforest and Antarctic ice sheets.
The AMOC ocean currents are currently at its weakest state in the last 1,600 years due to global heating, and warning signs of a tipping point were observed and reported on in 2021.
The research suggests the collapse could occur between 2025 and 2095, with an estimated central point of 2050 if global carbon emissions are not reduced.
The study utilised sea surface temperature data to estimate the timing of the tipping point based on a type of tipping point called a "saddle-node bifurcation."
Some scientists have expressed concerns about uncertainties in data and assumptions about tipping points, they agree that the potential collapse of AMOC should urge rapid cuts in carbon emissions.
The Intergovernmental Panel on Climate Change (IPCC) most recent assessment concluded that AMOC would not collapse this century, but researchers argue that their models may be overly conservative.
The new study emphasises the need for further research and a collective effort to address the risks associated with AMOC collapse.