Teaching The Future promotes a highly relevant educational approach to climate change, by applying open science and open data principles to the framework of a digital citizenship educational paradigm. The project responds to the needs of Europe and the goals of Agenda 2030 concerning sustainability and climate action.
Specifically, TTF's expected results are:
* An analysis of curriculum across partners and the potential for teaching the future, climate education and using open data (R1) Download the full report:
* An online climate data dashboard (R2), as a teaching resource targeted at teachers. This gathers climate data and scientific information which can be used by schools to support learning and teaching climate in schools. It will provide opportunities in and beyond the classroom, developed from an analysis of the resources and opportunities available. Visit the Dashboard
* An online teacher training course (R3), focused on teaching about climate change and including suggestions on how to embed climate education in different subjects, using scientific data and encouraging pupil engagement and active citizenship in local issues, for instance through citizen science approaches. Overall, this will lead to: – the provision of new resources and skills enabling teachers to effectively teach climate education to secondary school students. – strengthened students' and teachers' scientific engagement in climate issues, using innovative approaches. – enhanced interdisciplinary learning and digital skills among young people, raising their interest in science, technology and active citizenship. Visit the training course
Many aspects of climate have been published, including how the climate system works, what is happening to it, why (the role of natural and human influences), what may happen in the future, what the consequences could be for natural and human systems, and what could be done to manage the risks. Teaching a topic like climate change should be based on up-to-date scientific information and data, much of which is not published in formats that schools and teachers can easily use.
However, with technological innovation and the publication of the latest open data and information online schools and education should be encouraged to access and use the results of scientific research.
Many assessments are scientifically rigorous, produced using transparent processes. Efforts to discredit them with audiences that are unfamiliar with the underlying science or the processes used in preparing them have resulted in a lot of misinformation and fake news.
Report on Teaching The Future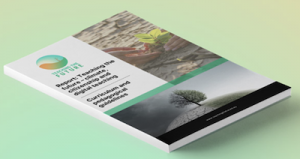 The first result of a project assesses the situation in secondary schools as well as the national curricula in partner countries. It examines and illustrates participative approaches to involve pupils in active citizenship activities and in innovative teaching and learning approaches. The report includes a review of academic literature, the results of interviews with focus groups of teachers and interviews with teacher educators. The purpose is to be able to offer recommendations for relevant trustworthy climate education with suitable and reliable pedagogical approaches and tools.
Download the full report:
Digital data dashboard for accessing climate data / information
Embracing learning and teaching for climate change requires access to suitable resources, data, news and media and updated information. The most effective way to do this is to provide an easily updatable dashboard that is accessible through mobile devices and tablets.
The digital climate dashboard will be an information management tool that is used to track metrics and other key data points relevant to the topic and specific areas. Through the use of data visualizations, the dashboard simplifies and provides access to complex data sets to provide users with at a glance awareness of the current situation and historical trends.
The climate data dashboard to be created is a digital interface that aggregates and visualises data and information from multiple sources, such as databases, locally hosted files, and web services. It will provide teachers with a tested package of ready-to-use quality resources to help them enhance to teach climate education to their classes.
Try out the data dashboard
Teaching The Future Teacher training course
Preparing students for a world in which the effects of climate change are omnipresent requires a new model for climate science education—one that emphasizes the intellectual and practical abilities needed to work across disciplines to develop responses to global challenges. Effective climate education will increase the number of informed and engaged citizens, building pressure to shape policy and build a workforce for a low-carbon economy.
Based on the results of the Report on Teaching The Future and the work done on the Climate education dashboard, a teacher training course will be created, piloted and tested with secondary schoolteachers, and then finalised for use with schools, teacher trainers, teachers, educators in NGOs and other relevant target groups.
The following modules have been developed
MODULE 1: CLIMATE – ADDRESSING THE CHALLENGE
MODULE 2: METHODOLOGIES FOR POWERFUL LEARNING
MODULE 3: ENCOURAGING STUDENTS' ENGAGEMENT TO LOCAL ISSUES
MODULE 4: DATA, TOOLS AND RESOURCES
Teacher training resources will be developed as a toolkit to help teachers deal with climate and citizenship education as a controversial issue. These will be customized by partners for the curricula in the participating countries. Next to this, the training will also provide teachers with strategies to develop their own approach to the issues.